'Reasonable grounds' to suspect Grenfell tower fire was corporate manslaughter – London police
Courtesy of RT 27 Jul, 2017 23:48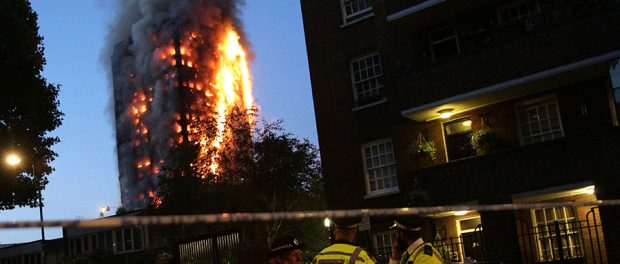 Police investigating London's Grenfell Tower disaster, in which 80 people were killed in rapidly spreading fire, have sent a letter to survivors and families of victims saying there are "reasonable grounds" to suspect it was a case of corporate manslaughter.
The Metropolitan Police said that both the Royal Borough of Kensington and Chelsea, the county council which owns the building, and management company the Kensington and Chelsea Tenant Management Association, are under suspicion of having committed offenses.
Senior executives of both the council and management company are now likely to be formally interviewed.
"We have seized a huge amount of material and taken a large number of witness statements."
"After an initial assessment of that information, the officer leading the investigation has today notified Royal Borough of Kensington and Chelsea and the Kensington and Chelsea Tenant Management Organisation that there are reasonable grounds to suspect that each organisation may have committed the offence of corporate manslaughter under the Corporate Manslaughter and Corporate Homicide Act 2007."
Reacting to the news, campaign group Justice 4 Grenfell said it welcomed the police statement.
Here is the letter Grenfell Tower residents received telling them about the developing investigation concerning RBKC and KCTMO pic.twitter.com/krWbKR7nxO

— Jack Hardy (@JackHardy9) July 27, 2017
"J4G welcomes the Police statement that they have enough evidence to proceed with corporate manslaughter charges, not least because this is evidence of progress being made in the criminal investigation."
READ MORE: New Kensington council leader had 'never visited' a tower block before Grenfell fire
"Survivors, bereaved families, evacuated residents and the wider community have been demanding arrests be made. J4G hopes that this latest statement from the Police is a precursor to that actually happening as any arrests made will be seen by all those affected as tangible evidence that they are valued members of society and are being listened to," the group added.
J4G's response to the Police statement re: corporate manslaughter charges pic.twitter.com/lBRFNSiAnZ

— Justice 4 Grenfell (@officialJ4G) July 27, 2017
At least 80 people were killed when a fire ripped through the 24 story tower block on June 14. Many commentators have attributed the fierceness of the blaze to the cladding which was attached to the tower, reportedly to make it less of an eyesore for residents of luxury blocks in the wealthy borough.
READ MORE: 9/11 experts called in by Grenfell Tower investigators